Kids Join the Fun at Family-Friendly Wineries
BY MARGOT BLACK
June 18, 2021, Updated: June 18, 2021
Wine tasting has traditionally been for adults only; however, with the demand for outdoor activities currently much higher, a few California wineries are now opening their doors to families, with some even allowing pets. One of the world's most beautiful wine regions is expanding its range of experiences from being a traditional grown-up pastime to one allowing Mom and Dad to visit wineries that also offer special activities for kids.
Outdoor fun, exposure to agriculture, kayaks, caves, goat yoga, and even zip-lining opportunities add a dash of exploration for the entire family. Oh, and there is, of course, wine. Glorious, exquisite wine. As the adults sample the latest vintages, children can have their own brand of fun tasting grape juice, romping in play areas, visiting with adorable farm animals, and playing outdoor games.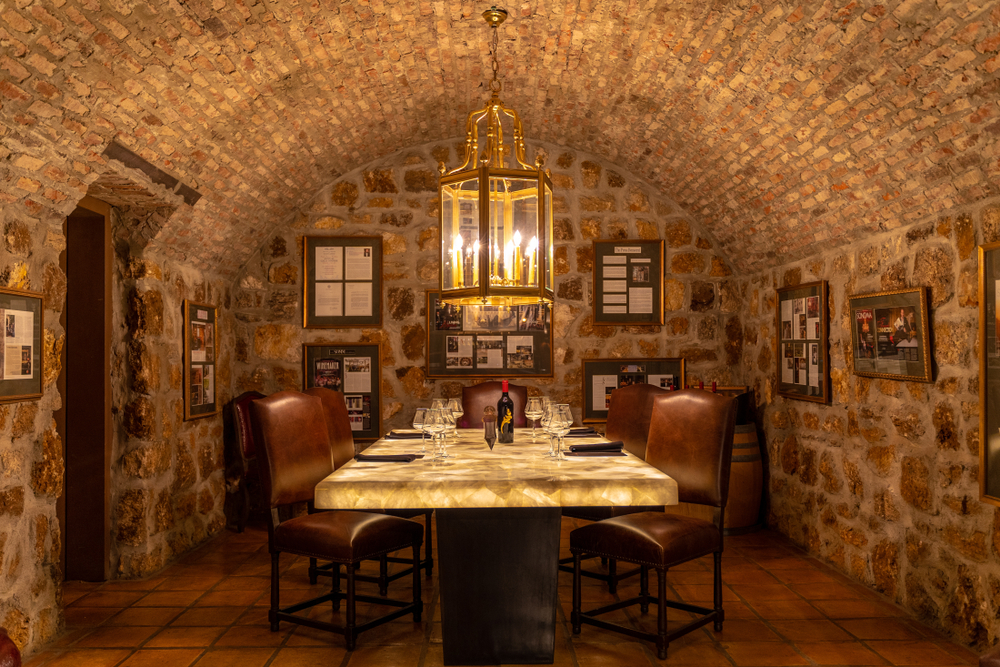 Essential to a fun family outing in any wine region is to call ahead or check the winery website to make sure minors are welcome. Some wineries don't allow guests under age 21. If you visit a winery where kids get the green light, they'll be able to join you in the winery and can often participate in vineyard and winery tours. A select few vineyards will even welcome your leashed dog.
Here are a few family-friendly favorites throughout California: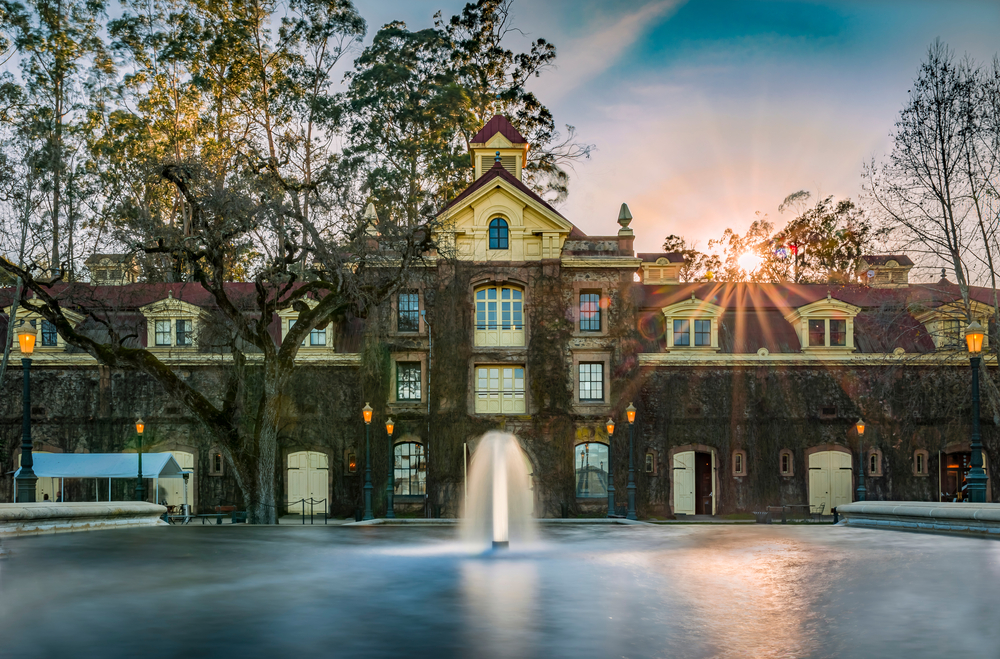 Central Coast
Ancient Peaks Winery, Santa Margarita, San Luis Obispo County: Go zip-lining through the vines at Ancient Peaks' Santa Margarita Ranch. Fun for all ages (kids weighing between 30 and 100 pounds can fly tandem with an adult), you can explore the adventure course and zoom over vineyards, then treat yourself to a glass of wine and lunch at the Ancient Peaks tasting room.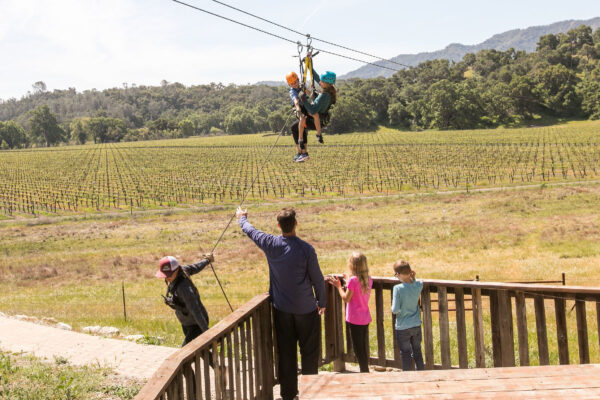 Castoro Cellars, Templeton, San Luis Obispo County: Kids can do their own tasting—of grape juice—while Mom and Dad sample wines. Games for kids include cornhole, giant Jenga, and an 18-hole golf course among the vines. Disc golf can be included with any tasting purchase.
Grey Wolf Cellars and Barton Family Wines, Paso Robles, San Luis Obispo County: While parents enjoy a glass or bottle outside overlooking the vineyards, children can enjoy a giant Connect Four game, giant Jenga, or cornhole. Barton's Kitchen Window serves lunch with many family-friendly options.
Inland Valleys
Heritage Oak Winery, Acampo, Lodi-San Joaquin County: Outdoor family fun includes picnicking, hiking down to the river, kayaking, and occasional guided bird walks.
Iron Hub Winery and Vineyards, Plymouth, Amador County: This kid- and dog-friendly winery offers children's activities that include cornhole, giant Jenga, coloring books, and giant dominoes while parents enjoy a seated patio tasting.
Spenker Winery, Lodi, San Joaquin County: Meet baby goats, watch cheese being made and picnic under the trees by the peaceful vineyard. Dairy farm and vineyard tours are offered in the summer and fall, where families can visit the creamery and sustainable vineyard. Among the vines, they see an owl habitat with nesting boxes, as well as a pollinator garden of California native plants for beneficial insects. In springtime, when goats are born, adults can do goat yoga. The whole family can enjoy the Goodnight Goats program, cuddling and tucking the kids into their own night pen followed by milk and cookies for the humans.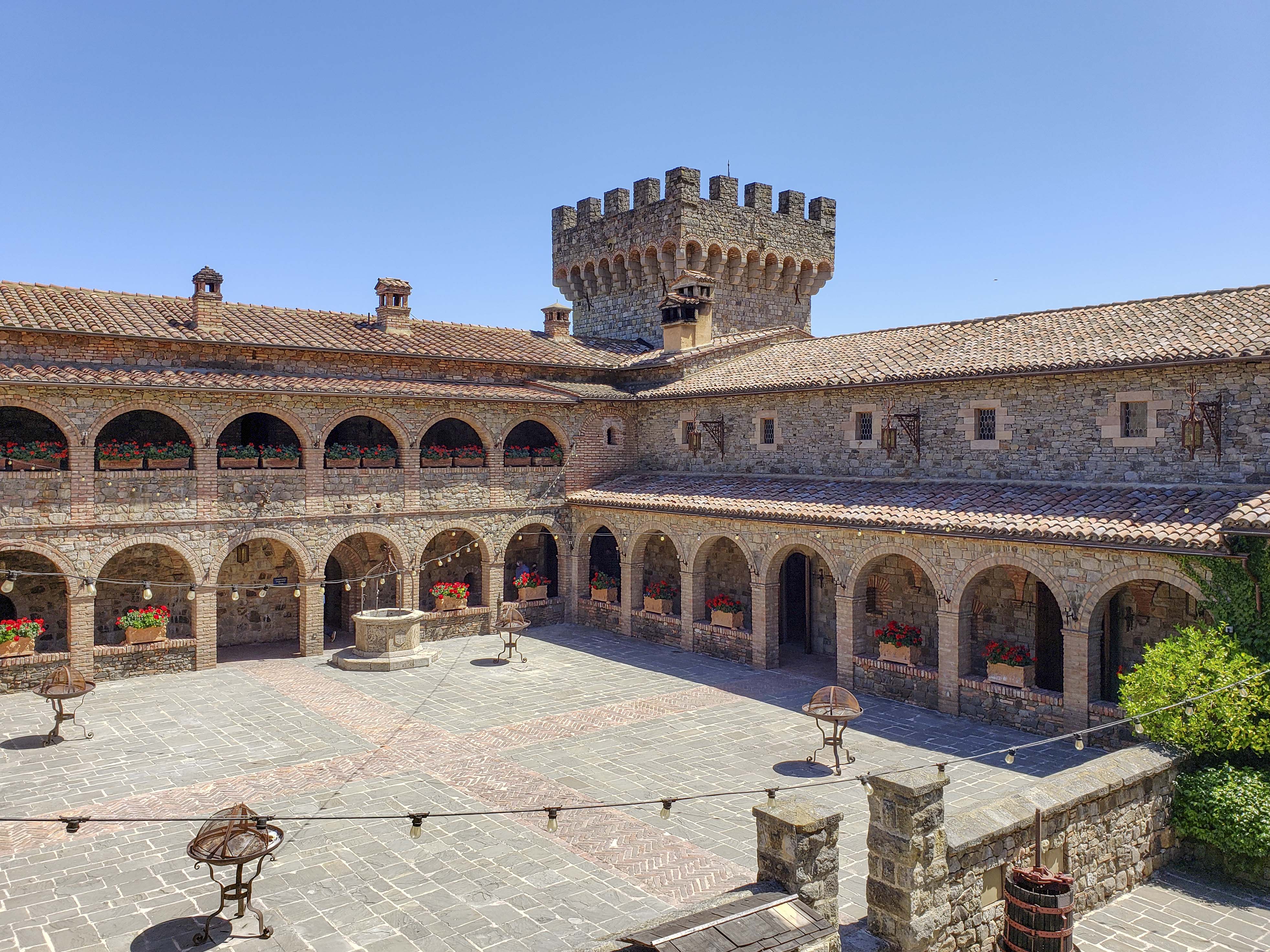 Northern Coast
Alexander Valley Vineyards, Healdsburg, Sonoma County: Kids can join in winery and cave tours with their parents, visit the vineyards, enjoy the winery's picnic area, and meet the winery dogs. While adults are tasting wine, children can play with a winery seek-and-find puzzle.
Buena Vista Winery, Sonoma, Sonoma County: Tours led by period actors include wine caves and the Historic Wine Museum, which features an entertaining multimedia show. There's also a picnic area and hedge maze.
Castello di Amorosa, Calistoga, Napa Valley: Tour a massive replica of an Italian castle, complete with a dungeon, then meet the estate peacocks and farm animals. Kids can sample grape juice and enjoy their own play area.
Francis Ford Coppola Winery, Geyserville, Sonoma County: Coppola welcomes families with two large swimming pools, private cabin rentals, bocce ball court, children's library, board games, and more. One of the pools, totaling 3,600 square feet, is connected by a water bridge created by pool jets. Dine at the restaurant that celebrates fresh local ingredients or visit Coppola's memorabilia-filled film gallery, which includes some of his Academy Awards. Due to COVID restrictions, pool day passes (without reservations) won't be offered in 2021. The cabin rentals, which come with pool access, are booked June-October 2021; however, cancellations occasionally happen, so checking the website regularly is recommended.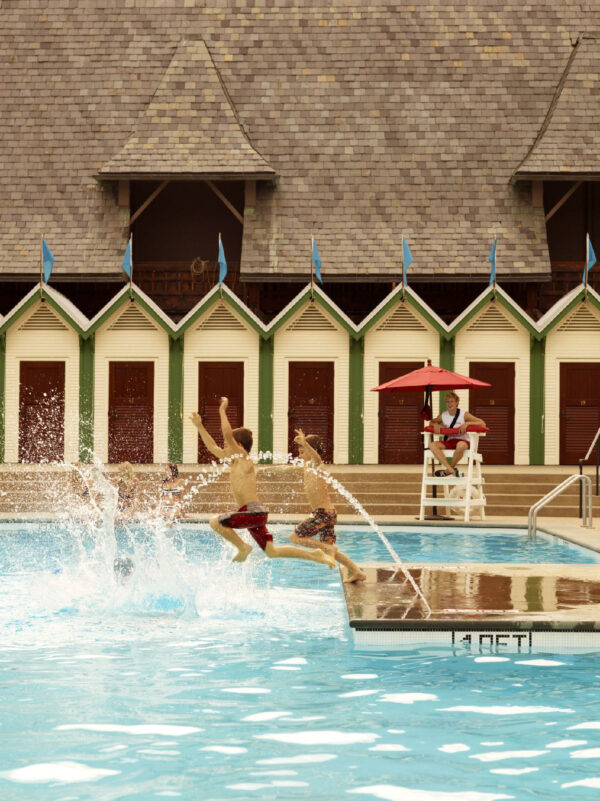 Six Sigma Ranch and Winery, Lower Lake, Lake County: Meet "Topper," the winery's pot-belly pig, who loves to have his ears rubbed. Select Saturdays you can jump on the flatbed and help feed the livestock. Picnic on the vast 4,300-acre picnic grounds, play a game of cornhole, or enjoy hiking and mountain biking trails with the family.
With so many good family-friendly choices now available, pack up the kids and perhaps the dog. Then, enjoy your vineyard visit and wine-tasting excursion.
Margot Black is a freelance writer. To read features by other Creators Syndicate writers and cartoonists, visit the Creators Syndicate website at www.creators.com. Copyright 2021 Creators.com